Teaching your child to swim encourages an active lifestyle and builds a strong foundation for good health. Swimming enhances strength and flexibility, and it helps keep lungs and hearts healthy. It also promotes self-esteem and confidence, as children progress, make friends and have fun in a new environment.
Bridport Swim School provides swimming lessons for children in Bridport. It runs throughout the year from Mondays to Saturdays (with a 2-week break at Christmas). Lessons are delivered by our team of qualified, expert swim instructors.
We follow the award-winning SWIM ENGLAND National Plan for teaching swimming. This well-structured and progressive scheme is constantly reviewed in line with good practise guidelines and feedback, encouraging continuous learning and a love of swimming. In addition, Bridport Swim School students (under 16) benefit from FREE swimming on weekends and school holidays.
---
Swim School Stages 1 – 7

The Learn to Swim Framework is is the most widely known nationwide, and is the backbone of swimming lessons for primary school-aged children.  It aims to develop confident and competent swimmers through fun and enjoyment, and Learn to Swim Stages 1-7 are at the heart of the Bridport Swim School.
In small classes of no larger than 10:1, the qualified swim instructors guide children through criteria aimed to improve their confidence and technique, whilst having fun with friends.
Children can join the swim school at any age or stage; our instructors will assess their ability and place them in the stage they are best suited to.
Each of the seven stages of the Learn to Swim Framework has a clear set of targets for the pupil to meet, with various awards given as they progress through the levels.
---
ROOKIE LIFEGUARD COURSE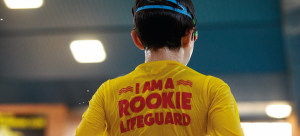 If you are looking for a programme to get your children more confident in and around water, look no further than the

#

BeaRookieLifeguard

 Programme.
The Royal Life Saving Society's Rookie Lifeguard programme gives your child the skills they need to be confident in the pool or the sea – which means peace of mind for you.
With colourful materials and fun, varied activities, the Rookie Lifeguard scheme teaches children how to swim and enjoy the water safely, whether in shallow or deeper water.
As your child progresses through the programme they will achieve many awards from Bronze stage 1 through to Gold stage 3. As they work through the stages, the criteria will get tougher, so they will increase their knowledge and perform more skills. Certificates are awarded at each stage.
The awards teach Rookies:
• Survival and self- rescue
• Simulated emergency response
• Sport and fitness
Each child will receive a logbook to log their progress through each stage.
The course runs for 50 weeks of the year with a 2-week break over Christmas.
Fees are payable by direct debit at £25 per month.
The Rookie Lifeguard programme is for children aged 7 to 14 years.
There is a maximum of 12 children per class.
Visit https://www.rlss.org.uk/rookie-lifeguard for more information. Call the membership team on (01308) 426900 to sign up.
---
Swim School Stage 8 – 10
The Aquatic Skills Framework (Learn to Swim Stages 8-10) are about building sport-specific skills to encourage a focus on aquatic sports.
At these levels, swimmers are encouraged to build sport-specific skills. Competitive swimming, water polo, synchronised swimming, diving and rookie lifeguard training are all available.
Swim England further information
---
Bridport Swim School offers an easy and affordable payment scheme by monthly direct debit. Swimmers (under 16) also benefit from free swimming at weekends and during school holidays.
All courses run for 50 weeks of the year with a 2-week break over Christmas. Fees are payable by direct debit at £25 per month.
| | |
| --- | --- |
| Bridport Swim School | £25 per month (Direct Debit) |
For all Bridport Swim School enquiries please fill in the form below and our membership team will contact you. Alternatively please contact reception on 01308 427464.
---
Bridport Swim School enquiry
---
Private swimming lessons
If you're looking for private swimming lessons in Bridport, the leisure centre has fully qualified instructors who can help children with all aspects of swimming, from learning the basics to improving technique.
We offer one-to-one and two-to-one lessons, for those who want to come with a friend.  Book on an individual basis or as a block. Contact reception or call 01308 427464 for more information.
Private swimming lesson prices (30 minutes)
| | |
| --- | --- |
| 1:1 private lesson | £16.00 |
| 1:1 private lessons (block of 5) | £72.50 |
| 2:1 private lesson | £24.00 |
| 2:1 private lessons (block of 5) | £105.00 |
---
Learning to swim
Swimming is an essential life-saving skill. Drowning remains one of the most common causes of accidental death for children in the UK – teaching them to swim could one day save their life.
Children can start to learn to swim from an early age.  If you're thinking of teaching your child to swim but don't know where to start, here are some tips for making the transition to the pool go smoothly:
Make bath time fun, so they associate water with having a good time. Sing songs, play games, splash around.
Let them pick their new swimming costume or try on a new swim nappy in the bath, so they get used to the feeling. Fewer issues around clothes = more relaxed swimmers.
Familiarise them with the pool before they start lessons, either with a family splash about or just taking a look around. New sounds and smells can sometimes be overwhelming.
Introduce them to our swim teachers before their first lesson. You can usually do this when you sign up for Bridport swim school.
Give them plenty of time to get changed beforehand – being in a rush makes everyone flustered. Meeting other children in the changing rooms before a lesson can also help them make new friends.
Make sure they're not hungry or thirsty before the lesson as this can be distracting. And have a snack ready for afterwards as they're guaranteed to use plenty of energy.